A Funeral In Zanzibar
---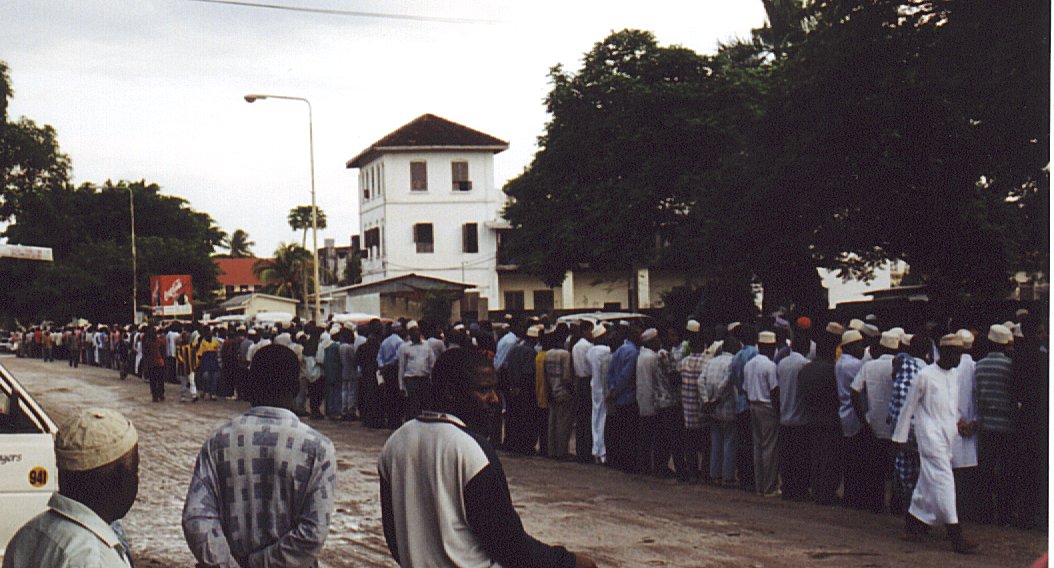 The line started forming quietly. Low murmurs, a nod or two; that was all that was exchanged. A double line of men, facing each other, standing solemnly, no more than 3 feet apart. Other men came from both sides, filling out and extending the parallel lines, standing shoulder to shoulder, as far as the eye could see.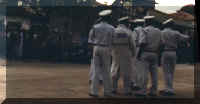 The police appeared. Clustering in the intersections, stopping all traffic. Cars and buses pulled to the side. People cleared the streets. Bicyclists got off and stood by their bikes or walked them slowly along the edge of the watching crowd.
A lone Maasai craftsman, loaded down with carved bowls and on his bike, rode into the street from an alley. He seemed confused by the scene he had joined. Two of the Police blocked his way. One hissed out a curt warning, the other simply reached down and unscrewed the tire's valve stem. Another hiss and the tire was flat, the Maasai then joined the slow procession of walking bicycles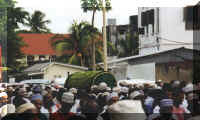 Suddenly from far down the line a green object could be seen. A hush rippled through the assemblage.
It was the coffin. Large and covered in a great green and gold tapestry, the object rode above the crowd like it was floating.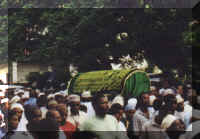 Closer it came and now one could see that it was born up by the arms of the men in line. They did not move but rather passed it from hand to hand down that long line.
It traveled at surprising speed, passing through the throng with an ease no mortal in attendance could have accomplished. The blazing green and gold cloth seemed to drape not just mere wood but a more ethereal presence, that moved gently over the crowd.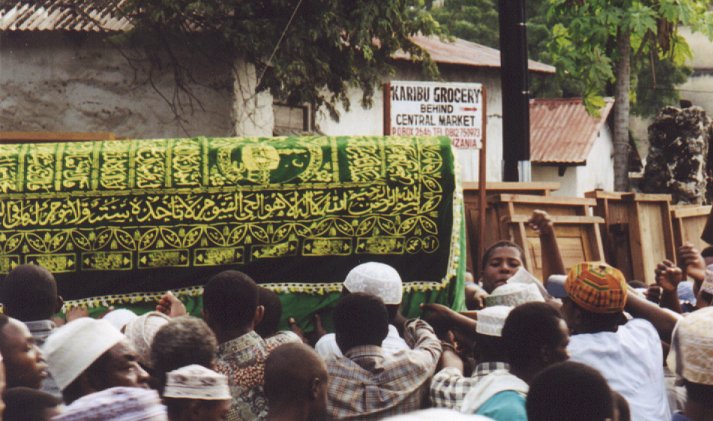 Now it was beside me. The men in line moved closer together, each strove to support the bier momentarily as it passed by. Others, not close enough to lift from below, reached out from the sides to make contact. Those hands seemed to guide it as it began to turn in a sweeping curve to the left and then glide down a side road into the heart of the City.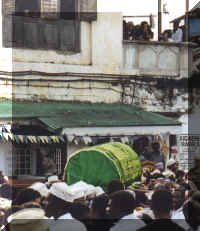 Women from the windows and balconies above had the last glimpse of the green marvel as it disappeared into the maze of streets near the Mosque, where it was to end it's travels.
Thus ended the last journey of a great man.
A wise elder, a teacher, a pious man. He died in India after a long illness.
His wish to return once more to his beloved Zanzibar was fulfilled that day in Stone Town.
---